Fashion sellers, you're in luck. The lack of social outings at the moment has not put a halt on sales for fashion items. As a result, there remains some work to be done to make the most of the ongoing popularity in this vertical. In short, eBay's mandates indicate that customers are regularly searching and filtering in fashion categories. 
There are 213 categories affected in this sector and it is essential for your store's success that you take these seriously. The mandates are there to improve both the seller and the customer experience. It makes it easier for customers to find exactly what they are looking for while also making your listings more visible, everyone's a winner! 
Item specifics are particularly important for fashion sellers due to how specific buyers are in this industry. Brand, size, colour, length, there are so many specifications that are necessary to sell clothing and accessories on the internet. As customers are unable to try these items before purchase, it is up to you to be transparent with your listings. The more detail you provide, the less likely it is that customers will return items for being unsuitable. 
FYI: 
"65-80% of eBay inventory doesn't have all 3 top item specifics completed and therefore disappears from search." 
Here are a few example categories and products affected by the mandate from Fashion: 
| Category | Listing |
| --- | --- |
| Women's accessories | Belts, hair accessories, sunglasses |
| Men's clothing | Jeans, jumpers & cardigans, suits & tailoring |
| Women's clothing | Coats, jacket & waistcoats, dresses, nightwear |
| Men's shoes | Boots, sandals & beach shoes, formal shoes |
| Women's shoes | Flats, heels, trainers |
Here are the item specifics which are present across fashion categories: 
Brand 
Colour 
Department 
Style 
Type 
Upper Material 
AU Shoe Size 
EU Shoe Size 
EUR Shoe Size (Women's) 
UK Shoe Size 
UK Shoe Size (Women's) 
US Shoe Size 
US Shoe Size (Women's) 
Please note that not all of these will apply to each listing, but there will be a variety across the different listings. 
Get ahead of the game 
If you don't comply with these mandates before the deadline, you risk your listings dropping from search. Your visibility and sales performance may suffer. Remember: these changes are there to improve your store. In fact, you should put in the work now and start to see the benefits before the deadline passes.  
The work doesn't end there 
Just because you have entered the required item specifics doesn't mean the task is complete. To really make the most out of these and squeeze out as many sales as possible, get started on the rest of your item specifics. With our Category Lookup tool, you can see how customers are commonly filtering. This is through the use of the Buyer Demand Indicator feature of this tool. We provide you with a rating of between 1 and 5 stars so you can see which changes will make the greatest difference. With online retailers keeping busy now more than ever, prioritising these changes will allow you to reap the benefits sooner and come back to the smaller changes at a later date. 
Here is why you should go beyond the minimum to really see an increase in sales: 

Image taken from Optiseller's Category Lookup tool  
As you can see from the image above, 'style' has 5 stars on listings for belts, meaning that it is regularly used as a filter by customers.  The 5-star rating means that there is a huge demand for this specification. The same goes for material which has 3.5 stars, neither are part of the mandate, yet they can both majorly increase your visibility. This clearly demonstrates that customers are looking for info that sellers are not always providing as it is not required information. If you have this data while competitors do not, you may just pick up an extra sale.  
"On average, listings in Fashion categories with Item specifics filled in, sell 47% better than those without." 
Aspect Finder+ to the rescue 
The changes you face can seem time-consuming and extremely overwhelming. Thankfully, we have created a tool that can automate this task and ease the pressure. Our Aspect Finder+ tool was designed to highlight which item specifics are required, required soon, recommended, optional or additional. It also provides suggestions which are in line with eBay's requirements. The drop-down suggestions make it quick and easy to keep these aspects up to date. The tool is free for sellers until 30th June 2021, courtesy of eBay. Make the most of this offer and find out what all the fuss is about! 
We hope that this post has explained all you need to know. If you have any further questions, check out our other posts in the series: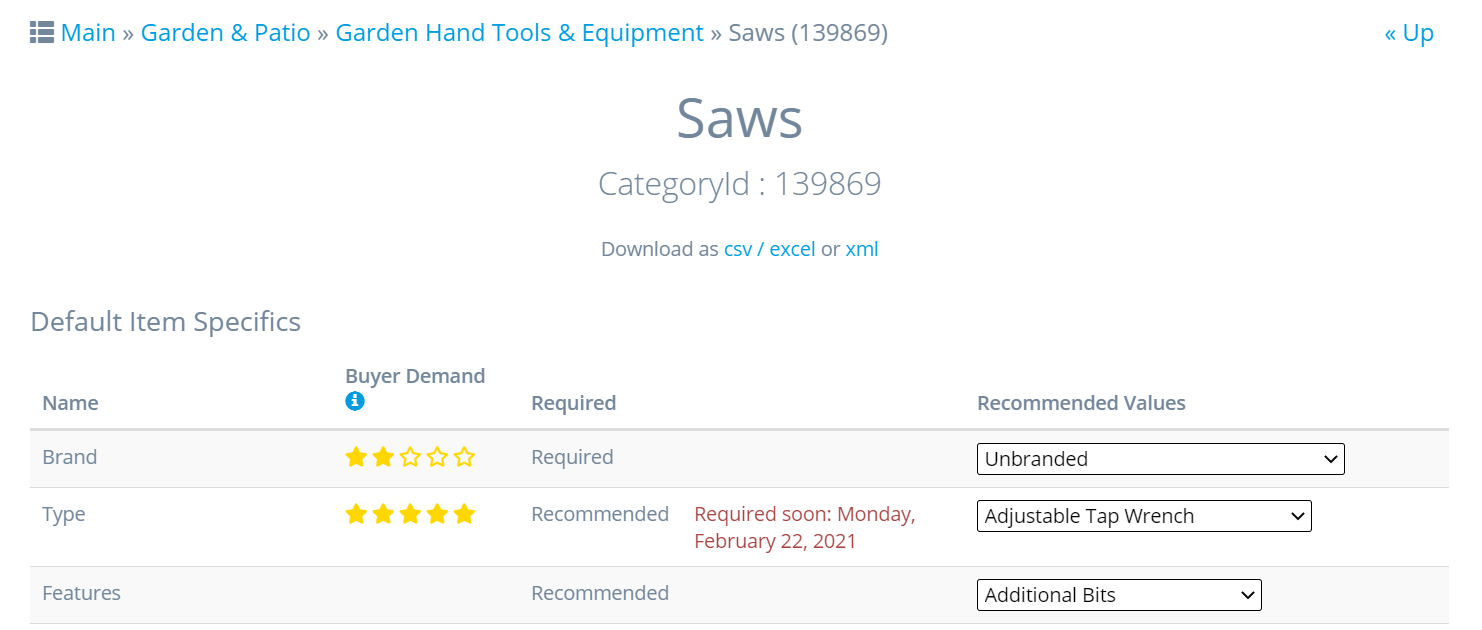 To sign up for Aspect Finder+, click here.
For more info, check out our other posts in this series:
For an explanation of the changes as a whole, check out this post.
To see an overview of the changes, check out this post.
If you are a seller in the Health & Beauty or Fitness Sectors, check out this post.
For further information on the mandate more generally, check out our mandates FAQs video here.