If there were ever a time to take up a hobby, it's now. The only way to gain access to these hobbies currently is through online shopping (funnily enough, many have actually taken up online shopping as their new hobby). Well, I'm afraid I have good and bad news for lifestyle, sport and instrument sellers. The bad news is, there's some work you need to complete before the 22nd of Feb, the good news is, it can massively benefit your sales and profit margin!  
eBay's mandates are coming into effect on the 22nd of February. They affect a number of categories across lifestyle, sports, and musical instrument categories. In fact, there are 120 in sports and 53 across musical instruments. Fishing and Guitars are highly affected categories which will be the focus for these examples. 
Here are a few example categories and products affected by the mandate from Musical Instruments: 
| Category | Listing |
| --- | --- |
| Guitar & bass parts | Pick-ups, knobs, jacks & switches, bridges |
| Effects pedals | Multi-effects, power supplier |
| Parts & accessories | Capos, straps, plectrums/picks |
Here are the item specifics which are present across guitar & bass categories: 
Brand 
Type 
Suitable for 
Amplifier type 
Please note that not all of these will apply to each listing, but there will be a variety across the different listings. 
Here are the item specifics which are present across fishing categories: 
| Category | Listing |
| --- | --- |
| Baits, lures & flies | Live bait, fly tying materials, bollies & pellets, attractants & scents |
| Angler's equipment | Rod rests & pods, pliers & hook removers, bait boats |
| Terminal tackle | Weights & sinkers, hooks, feeders |
Here are the item specifics which are present across fishing categories: 
Brand 
Bait Type 
Colour 
Type 
Line Type 
Part Type 
Again, there will be a mix of these being used but not all will apply across the board. 
As we have mentioned before, there are many categories affected in the fitness sector, here are a few examples: 
| Category | Listing |
| --- | --- |
| Cardio machines | Stair machines & steppers, ski machines, cross trainers & ellipticals |
| Strength training & weights | Weighted vests, wrist & ankle weights, dumbbells |
| Yoga & pilates equipment | Mats & non-slip towels, yoga & pilates accessories, pilates rings |
These are the item specifics you will see across the fitness, running & yoga categories: 
Brand 
Volume 
Department 
Frame Colour 
Type 
Colour 
Material 
These will not be present across the board but you may come across a variety of these if you are selling in this sector. 
Make changes before the deadline 
Making these changes before the 22nd of Feb will mean that you may start to see improvements ahead of the deadline. The sooner you increase your visibility, the sooner your store will be found by customers. 
There is more to be done 
It is worth pointing out, eBay does not mandate absolutely all of the item specifics that may make a difference to your store's visibility. Our Category Lookup tool has a feature which indicates how frequently a certain filter is being searched for by shoppers. This feature, the Buyer Demand Indicator, gives you a rating of between 1 and 5 stars. When there is a 5-star rating it means that these filters are being used very regularly and entering the specifications for this can be the difference between your listing being found, or dropping from search results. In fact, some ratings which eBay do not require, have a higher star rating. See the example below: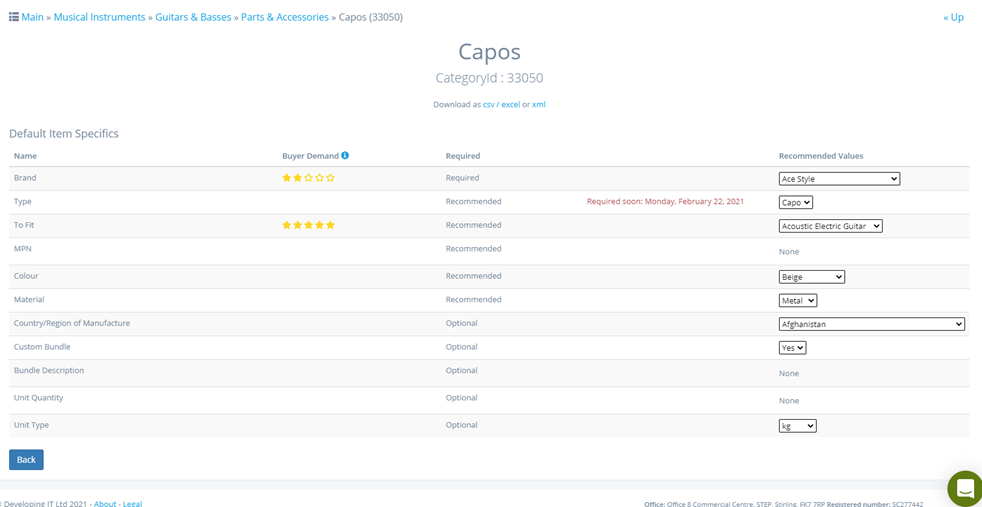 Image taken from Optiseller's Category Lookup tool  
'Brand' is a required item specific for Capos, which has 2 stars at present. Meanwhile, 'To Fit' has 5 stars, but is only recommended. This goes to show that customers are looking for info that sellers are not always providing. It may not be essential, but it is beneficial for both you and your customers. If you have this data while competitors do not, you may just pick up an extra sale.  
Aspect Finder+
Making these changes will take time that you may feel you don't have to spare at the moment. Thankfully, we have created a tool that can automate this task and ease the pressure. Our Aspect Finder+ tool will highlight to you what item specifics are required, required soon, recommended, optional or additional. With this information, you can prioritise your changes and come back to the rest later. It also provides eBay approved suggestions. These drop-down suggestions make it simple and easy to keep these aspects up to date and recognised on eBay's filtering system. The tool is free for sellers until 30th June 2021, courtesy of eBay. Make the most of this offer and get your store on top form before the deadline. 
We hope that this post has been helpful and you feel ready to get started. If you have any further questions, check out our other posts in the series: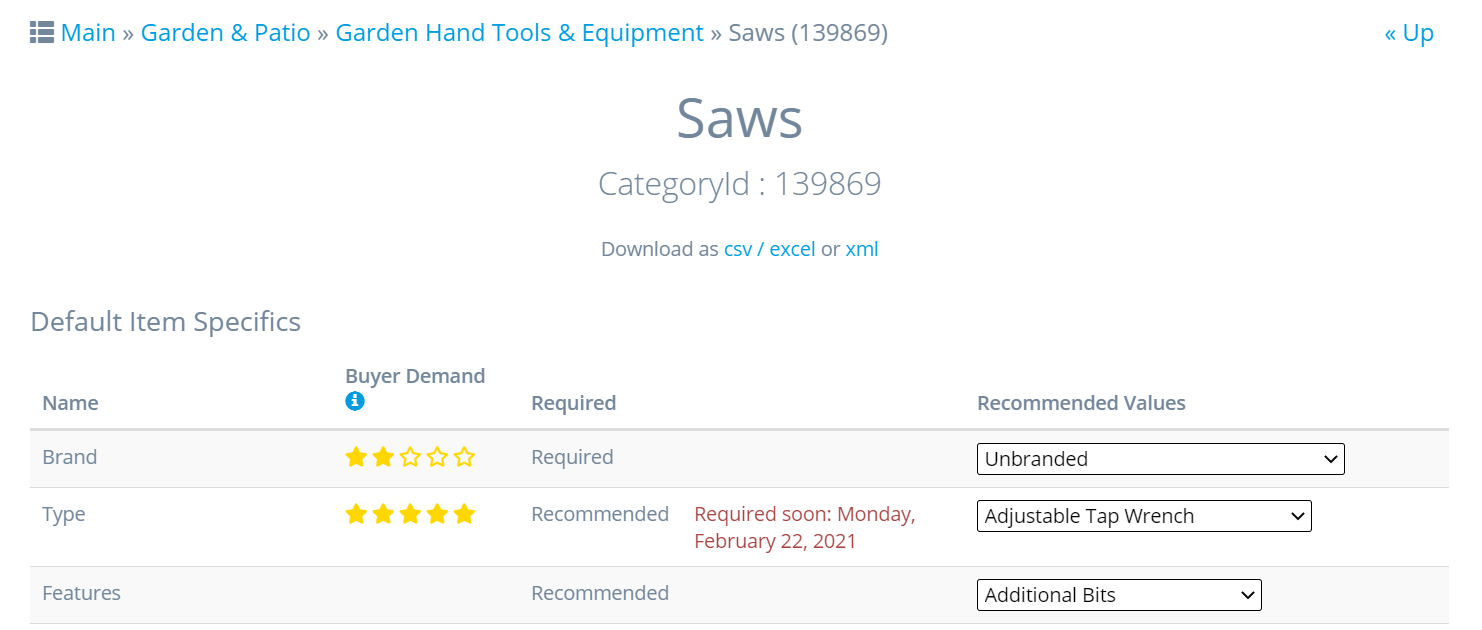 To sign up for Aspect Finder+, click here.
For an explanation of the changes as a whole, check out this post.
To see an overview of the changes, check out this post.
If you are a seller in the Health & Beauty or Fitness Sectors, check out this post.
For further information on the mandate more generally, check out our mandates FAQs video here.
If you are a home & garden or business & industrial seller, check out this post.
If you are a fashion seller, click here check out this post.