Following eBay's announcement last week about the VAT changes to eBay listings from 1st January 2021, lots of sellers have reached out with their questions.  
We have noticed that the number one issue is how to make changes in bulk to VAT on eBay listings. To help eBay sellers, we have put together a step-by-step guide so everyone is clear on what to do.  
File exchange or eBay's bulk edit? 
The first question you need to ask yourself is whether you want to update your listings using File Exchange (via CSV) or eBay's bulk edit tool.  
The option that is best for you will largely depend on how you list on eBay and the number of listings you have. In any case, we cover both options below.  
Option 1: using File Exchange to update your listings via CSV 
The first option you have is to create a CSV with the headings in the format shown below: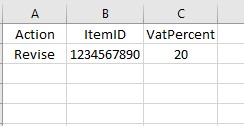 To do it, you will need to pull a list of all your eBay Item IDs and assign the correct VAT percentage to each of them. Once it's ready, you can send up a revised CSV to File Exchange to edit your listings in bulk. 
If you sign up to either our Essential or Ultimate package, you will be able to access our Download Listings tool. The tool can give you a full list of all your eBay Item IDs and a lot more useful information, such as SKUs, to help with your listings. 
With the list you can add in a 'VATPercent' column into a CSV and upload to File Exchange. 
Option 2: using eBay's Bulk Edit tool 
The second way to revise VAT in bulk for your affected listings is to use the eBay bulk edit tool.  
However, remember that the eBay bulk edit tool only allows you to edit a maximum of 500 live listings at any one time. Depending on the number of listings that you have, the File Exchange option above may work better for you.  
To use eBay's Bulk Edit tool, log in and go to the Edit fields option. Then, click on VAT, as shown below: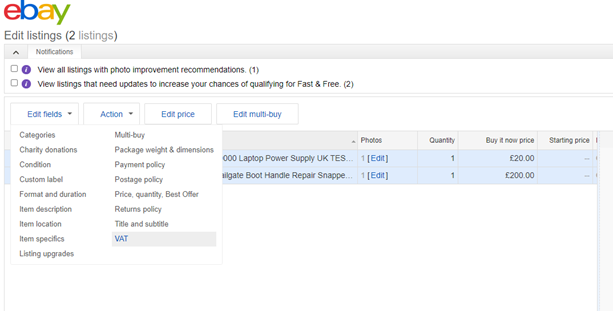 From the Edit VAT option, select Edit listings in bulk. Next, pick the Change to field from the drop-down menu and enter the appropriate VAT percentage for your case.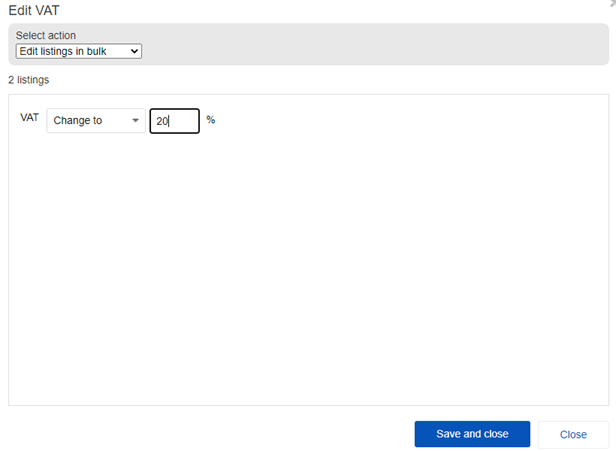 Remember to save your changes before closing the menu.  
We hope the above guide helps you. Best of luck with the changes!