Sporting Goods sellers, you have some work to do. There are 175 categories mandated for the vertical in the UK. This is a reflection on recent customer behaviour which eBay has picked up on. While this number is reflective of the UK, many other regions are affected in the same way. This post can give you a stronger understanding of the mandates, regardless of the region you sell in.
The changes will only mean good things for your store; you can identify where you can pick up traffic and ensure that you are ranking higher when potential buyers search for your products. It aids the buyer and seller experience and to miss the deadline would mean missing a big opportunity to boost sales. 
Here are a few example categories and products affected by the mandate:  
Category
Product

Fitness, Running & Yoga

 

Sweatbands

 

Team Sports

 

Softballs, Bat Grips, Gloves & Mitts

, Cheer Poms

 

Winter Sports

 

Men's Boots, Women's Boots, Children's Boots

 

Fishing

 

Chairs & Bed Chairs

 
These kinds of categories and more in this vertical will need some work.   
The Item Specifics below which are soon to be required are the following:   
Body Area

 

Brand

 

Colour

Item Height

Item Length

Item Width

Size

Sport/Activity

Type

 
UPC
Please note that not all of these Item Specifics will be needed across every single listing, but each category in this vertical could require a variety of the Item Specifics mentioned above. 
Since the new mandates are regularly rolled out, it is worth your while to also fill out the Item Specifics which are not currently required. They could be part of the next one, so working to stay ahead will make it a smoother process in the long run.  
Not only this but going beyond what is needed will put you head and shoulders above your competitors. If you provide more information to sellers, you are coming across as reliable and trustworthy, something that is essential for those buying online. It reduces the chances of returns and unsatisfied customers to provide every piece of information you possibly can. Also, every relevant Item Specific you populate means you are less likely to be filtered out of relevant searches. We do know, however, that keeping on top of this is easier said than done. 
We understand that this can be challenging to manage, especially as your stock numbers grow. It is natural to become overwhelmed with the growing Item Specifics requirements. Luckily, we have just the tool for you. Aspect Finder+ is a tool we created to help you optimise your Item Specifics. eBay value the tool and are even working with us to provide it to all eBay sellers globally at no cost until 30th June 2021. Our tool evaluates your eBay listings and generates a report of which Item Specifics are required, required soon, recommended, optional or additional.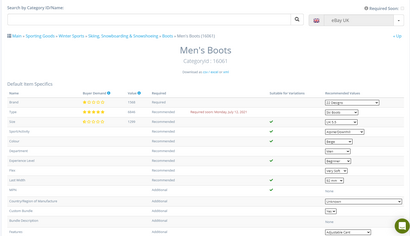 Another useful tool that may interest you is the Category Lookup tool. This tool includes a 5-star rating feature called the Buyer Demand Indicator. This indicates a trend in buyer's behaviour so you know what is currently in demand. The star ratings are based on eBay's customers' behaviour over a 30-day period. From this data, we then provide a star rating for a particular Item Specific from 1-5.  This will give you valuable insight into where you should focus your efforts beyond the required mandates. 
As you can see from the image above, some of the currently required Item Specifics have a lower star rating (e.g. Brand - with 1 star) compared to a recommended Item Specific (e.g. Type – with 5 stars). This means that when searching for Men's Boots in Winter Sports, buyers are filtering using 'type' more frequently than they are using 'brand'. This reflects how the needs and habits of consumers shift over time. It is a perfect demonstration of how you can miss out if you don't do more work than is currently necessary. Starting the work now will mean you start to see the benefits before the deadline has even passed. Get ahead and stay informed on buyers' behaviour. 
Please note, if you aren't a UK seller, you can still use our tools to help you to understand what is expected of you. We used UK sellers as an example, but the situation is very similar to your own. 
Please note that: while all the category examples are based on UK changes, generally these changes are the same internationally, with the exception of France, Italy, and Spain. 
To see how these changes affect you, contact us.