Many of us have caught the DIY bug while spending so much time at home. Buyers are now searching for home & garden and DIY supplies online. If you are a Home & Garden or Business & Industrial seller, you have some work to do. There are 291 categories mandated for Home & Garden and 202 for Business & Industrial. This is a reflection on recent customer behaviour which eBay has picked up on.  
Good news! 
It may not seem like it, but it is good news for your store that you have these changes to make. It means that there is an increase in searching and filtering for your products within these categories. So, as a seller in these categories, it is in your interest to make these changes asap. Especially as the deadline for these changes is the 22nd of February.  
Here are a few example categories and products affected by the mandate from Home & Garden: 
| Category | Listing |
| --- | --- |
| Outdoor Heating, Cooking & Eating | Patio Heater, Picnic Baskets & Backpacks |
| Garden Hand Tools & Equipment | Saws, Garden Forks and Rakes |
| Garden Power Tools & Equipment | Strimmer Parts, Chainsaw Accessories |
| Power Tools | Generators, Generator Parts |
These kinds of categories and more in this vertical will need some work.  
The item specifics below which are soon to be required are the following:  
Brand

 

Type

 

Power Source

 

Colour

 

Item Height

 

Item Length

 

Item Width

 

Material

 

Product

 
To be clear, not all of these item specifics will be needed across every single home & garden listing, but each category in this vertical could require a variety of the item specifics mentioned above. For example, chainsaws will be required to enter 'power source' and 'type', grass shearers will require 'brand', 'power source' and 'type', and pressure washers will only require 'type'. 
Here are a few example categories and products affected by the mandate from Business & Industrial: 
| Category | Listing |
| --- | --- |
| Commercial Flooring & Tiles | Commercial Flooring and Carpet, Commercial Floor and Wall Tiles. |
| Industrial Paint, Coatings & Supplies | Brushes, Rollers and Trays, Paint Strippers & Removers, Plastic Sheeting and Drop Cloths |
| Electrical Equipment & Supplies | Multiple conductor cable, Hookup & Lead Wire and Magnet & Enamelled wire. |
These listings and more will require attention. The item specifics which are now required across ALL affected categories will be: 
So there are not quite as many for the business and industrial vertical, however, keep an eye out as this could change with another set of mandates. It is also worth your while filling out the item specifics which are not currently required. This is easy to do with our Aspect Finder+ tool. 
Extra credit 
It may seem easier to simply make the changes as eBay mandate them, but we advise you to go beyond what is needed. Item specifics are important whether they are mandated by eBay or not. Every relevant item specific you populate lessens your chances of being filtered out on a search your listing would otherwise match. We do know, however, that this is easier said than done.  
It is natural to become overwhelmed with the sheer amount of item specifics you can have. Luckily, we specialise in creating tools that can help you with this. Aspect Finder+ is a tool provided free of charge for all sellers globally until 30th June 2021, courtesy of eBay. The tool generates a report that shows you which of your item specifics are required, required soon, recommended, optional or additional. 
Another tool perfect for getting the most out of your item specifics is the Category Lookup tool. This tool has a star rating feature called the Buyer Demand Indicator. It does what it says on the tin: it indicates a trend in buyer's behaviour so you know what is currently in demand. The star ratings are based on eBay's customers' behaviour over a 30-day period. From this data, we then provide a star rating for a particular item specific from 1-5.  
Just because eBay has not mandated a particular item specific, does not mean that it isn't highly filtered for by customers. The image below shows that 'type' has a required soon status and we have detected it as having 5 stars. This means that customers are using this filter regularly when searching for Saws. However, 'brand' is not currently a frequently used filter, with 2 stars (meaning in the Saws category people are less bothered by brand), yet is already required by eBay. This goes to show that there is extra work you can put in to further increase sales.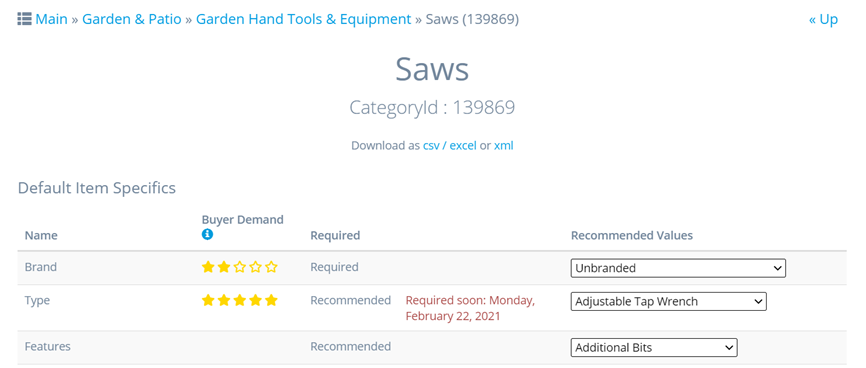 We hope that you now feel confident with the changes you are expected to make and understand the importance of them. It is less than a month until the deadline so the sooner you make a start, the better. Aspect Finder+ can automate this for you and allow you to go that extra mile to make the most of your item specifics. This will save you time, allowing you to fulfil the orders that the item specifics are attracting! 
Remember, Aspect Finder+ will be free for all eBay sellers until 30th June 2021. Make the most of it while it is free. You won't regret it.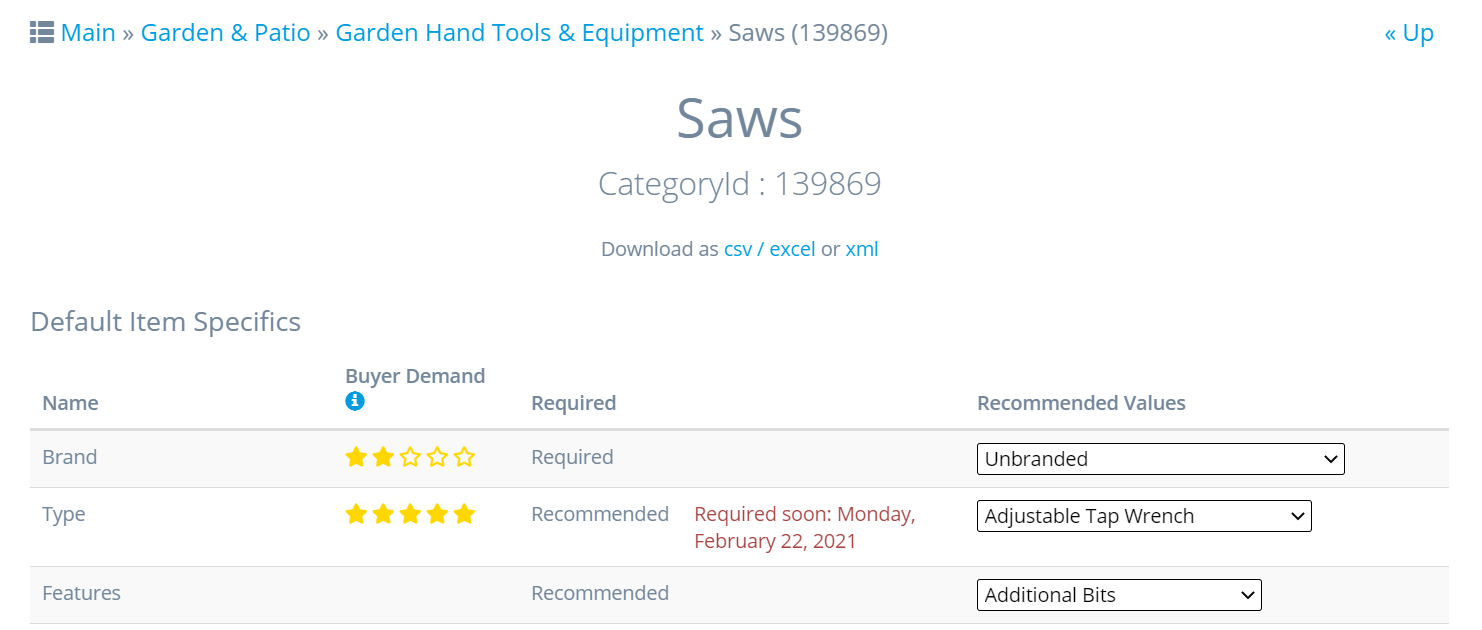 To sign up for Aspect Finder+, click here.
For more info, check out our other posts in this series:
For an explanation of the changes as a whole, check out this post.
To see an overview of the changes, check out this post.
If you are a seller in the Health & Beauty or Fitness Sectors, check out this post.