Are you ready?
 

for eBay's mandate.

 

There is a total of 1252 categories.

 This quick overview will give you an idea of what's coming up in just one month!




In short, the changes in consumer behaviour have had a massive impact on certain eBay categories. Could your store be affected? Here's a rundown: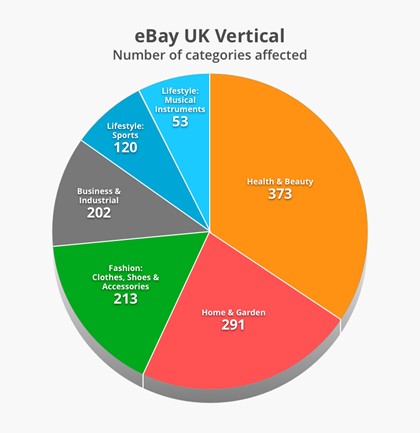 As you can see from the chart above, with at-home self-care becoming increasingly popular as of late, Health and Beauty is the most affected vertical with a total of 373 category mandates including the likes of hair care, massage equipment and nail art.  
Home and Garden was another hugely affected industry with 291 categories going under review. Some of which are hammocks & porch swings, pool & spa equipment and lawnmowers. To see the tools we provide for this vertical, click here.
Fashion is next, with 213 affected categories, some of which are sleepwear, hats, gloves and dresses. Check out the tools we provide for fashion sellers here.
With most of the nation spending most of their time at home, there has been an influx in Business and Industrial searches and filters. Staying home seems to have given people some motivation to get cleaning and up to scratch with the DIY as there are a total of 202 mandates for this category. Household cleaning supplies, painting supplies and flooring are all in need of some attention. 
Unsurprisingly, many lifestyle verticals will need updating. Likely due to a massive surge in people taking up new hobbies to pass the time at home. There are 120 in sports such as cardio machines and fishing accessories. Then 53 relating to musical instruments including guitar & bass, effect pedals and tuners. 
There are a vast number of item specifics affected across all of these categories. All of which will help improve the customer's browsing experience. We will be going into these more specifically in our posts over the next few weeks. Be sure to check those out too! 
Remember, if your store is affected you can use our Aspect Finder + tool for free courtesy of eBay until 30th June 2021. Sign up for access here. 
Need more convincing to give Aspect Finder+ a try? Here's a quote from one of our customers: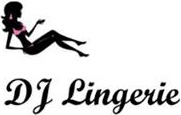 "We had been updating our Item Specifics in eBay but Optiseller has really helped us to speed up that process. Being able to use Aspect Finder+ on our listings, download the information and then upload it to Linnworks has been a great help. The Category Lookup tool is fantastic and has saved us a lot of time when selecting correct values for eBay. It is a simple and easy tool to use and the support they provide is outstanding."  -DJ Lingerie