Navigating your Store Performance Dashboard (part II) 
The first post in this series gave you an overview of the data provided on the dashboard and what it can do for you.
This post will delve deeper into some of the features of the tool that can make your life as a seller much easier.
RAG Status Indicator
Both the dashboard and the trends view use a RAG (Red Amber Green) status indicator to show if a particular KPI (Key Performance Indicator) falls within our recommended thresholds.
The RAG Status Indicator makes it clear what to prioritise at a glance. Red needs urgent attention, amber can be reviewed at a later date and green can be left alone. 
KPI Titles
By clicking on a KPI title, you can see more detail about that particular KPI. This includes a graphical view of the KPI over time, so you can see any trends. The feature also gives summary information, as well as listing performance data (hits & sales). 

The List View
The list view allows you to link to the live marketplace listing by clicking on the title shown on the dashboard. Alternatively, you can access our Single Listing Review tool by clicking on the Item ID: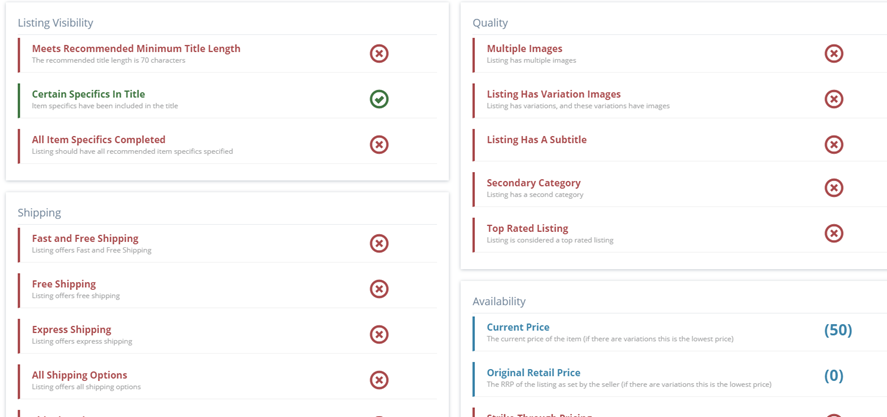 Shipping 
This section of the dashboard allows you to see how many listings you have fall under the different shipping options. 


 
As we like to point out, offering flexible shipping options to customers is an excellent to increase your sales, so it's worth keeping an eye on this metric.  
If you can offer free shipping and deliver within 3 days, your listings will be flagged as Fast and Free Shipping, which has been proven to increase conversion and can also increase the search ranking. 
The Click & Collect option, which indicates flexible buying options and the ability for buyers to pick up their items in a store, may also entice a potential buyer over a competitors offering. 
Item Specifics 
Item Specifics allow eBay buyers to filter the products available within its different categories. As a seller, it's in your interest to populate as many Item Specifics as possible, because they will make your listings more visible.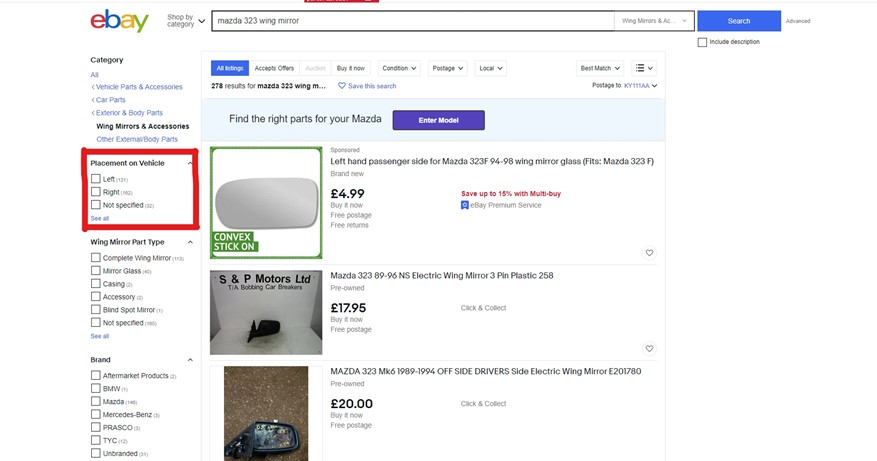 In the example above, if a user is browsing a category and selects the "Placement on Vehicle" filter, then any listings that do not have this item specific will drop off the results. 
Our Item Specifics KPIs let you know how many and which listings do not have fully populated item specifics. We also measure the number of missing recommended Item Specifics, which is a good KPI to keep an eye on when improving Item Specifics adoption. 
We have other tools to help guide population of Item Specifics. Check out: 
In the last post in this series we will look at other areas covered by our dashboard, including images, titles, secondary categories and many more. Check it out here.