FINAL COUNTDOWN 
The changes are just within reach. The looming deadline for the eBay mandate is now just 6 days away. With 1252 categories affected it is best you ensure you are not one of them. If you are, there is still time to make these changes!  
Amongst the affected categories we have Men's & Women's Fashion, Health & Beauty, Baby & Kids, Business, Office & Industrial, Home & Garden, Musical Instruments and Sporting Goods. If you sell in one of these verticals and don't make a change, you are guaranteed to suffer from a drop in sales. 
When item specifics required by eBay are not being populated, buyers will filter out your listings without even realising. You risk your marketplace visibility diminishing without populating the newly required values. You may not know where to start, but that is where we come in! Our Aspect Finder+ tool does most of the work for you. Not only this, but it is also free to use courtesy of eBay until 30 June 2021!  
We hope that this post has been helpful and you feel ready to get started. If you have any further questions, check out our other posts in the series: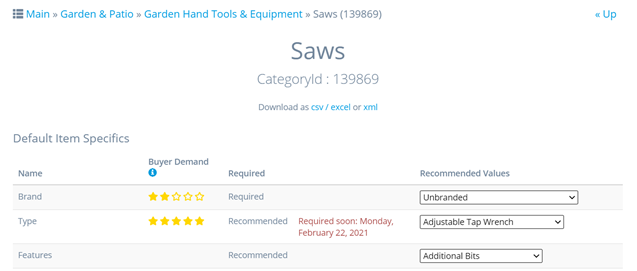 To sign up for Aspect Finder+, click here.
For an explanation of the changes as a whole, check out this post.
To see an overview of the changes, check out this post.
If you are a seller in the Health & Beauty or Fitness Sectors, check out this post.
For further information on the mandate more generally, check out our mandates FAQs video here.
If you are a home & garden or business & industrial seller, check out this post.
If you are a fashion seller, click here check out this post.